Finding The Best Deal on Dog Tags
Why do I need a dog tag?
Dog tags are an easy way for your dog to be recognized. If your dog ever goes outside, there is a chance that he could run away. Potential rescuers need an easy way of identifying your pet, and making sure he returns safely home.
My dog has an implantable chip, do I need a dog tag?
Yes. Even though your dog can be identified by the chip, the majority of rescuers are neighbors. You want your dog to be easily identified, and returned as quickly as possible.
Brands:
We will be reviewing primarily two kinds of tags, metal and plastic tags, and demonstrating the qualities of each and where to find the best quality for the cheapest price.
| | | | | | | |
| --- | --- | --- | --- | --- | --- | --- |
| Company: | Material: | Size: | #Characters | Price: | Shipping: | Total Cost: |
| | Steel/Aluminum | 1 1/2" | 15/4 | $3.49 | $5.99 | $9.48 |
| | Steel/Brass | 1/1/2" | 20/6 | $9.95 | $1.25 | $11.20 |
| | Plastic/Steel | 'large' | 20/5 | $7.49 | $2.99 | $10.48 |
| | Plastic/Steel | 1 1/4" | 20/5 | $3.95 | $1.00 | $4.95 |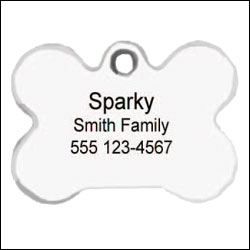 Dog Tag at Labels250.com
Notes:
LuckyPet.com also offers plastic dog tags, but for the same price as their stainless steel and brass tags. For the price, I suggest getting the metal tags, as they are more durable.
LuckyPet.com also offers dog tags that attach flat to the collar. This prohibits snagging, and reduces the risk of the tag being lost while traversing through brush or wooded terrain.
LuckyPet.com offers a pet protection service for an additional $9.95. They will print an 800 number on the tag for potential rescuers to call if they are unable to reach you.
PetTags.com offers two 19 character lines on the back of the tag for an additional $2.00.
On Dog.com, the dog tag page loads extremely slowly. This has to do with the flash player that renders the product picture. Be prepared to wait 30 seconds to a full minute for the page to load.
Labels250.com offers a second plastic tag free with purchase.

Quality Check: Keep these things in mind when ordering dog tags
Is the text engraved on this tag, or merely printed?
Are the edges sharp, will it hurt your pet?
Are the dog tags scratch resistant?
Does this tag's fastening appear that it would easily break and become lost?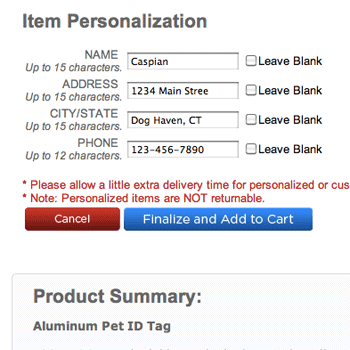 Ordering Tips:
When ordering, think about putting essential information that would help vets: For example, the dog's Date of birth and specific allergies.
When choosing a tag, think about your dog's activity level. Dogs used primarily for hunting and service will need a durable tag that attaches firmly. House dogs can use a plastic tag, which is more cost effective.

DoggieBuddy's least recommended:
We do not recommend ordering dog tags from Dog.com. Even after you wait for the page to load (which takes forever because of their flash plugin), they only offer 15 characters per line. As you can see in the screenshot I took, I can't fit my whole street address in the line. If you have a large street name, you won't be able to fit it all on your tag.
DoggieBuddy's Top Choice:
We recommend Labels250.com. They not only have the lowest price for tags, but if you order plastic tags, they offer a replacement tag for free. Click to visit Labels250.com.
Did you enjoy this Review?

Share your experience by commenting below. Don't forget to Friend us on facebook and subscribe to our twitter feed to stay updated! Thanks for reading, recommend us to your friends!