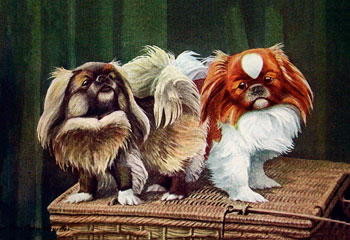 Illustration by Louis Agassiz Fuertes
Pekingese
This Oriental toy is of great antiquity, as is proved in the art and sculpture of ancient dynasties in China. He is a tiny, soft, cuddly, little creature, rather less exclusive in his friendships than the English toys, easily distinguished from them and from the toy spaniels by his long, low body and short legs, as well as by his deep, soft, straight, and woolly rather than silky coat.
The fancy desires a type whose expression implies "courage, boldness, self-esteem, and combativeness, rather than prettiness, daintiness, and delicacy." As a rule, they have plenty of self-esteem ; most of them are fully aware of their immunity from deserved punishment, due to their tiny size and general dcfenselessness, and take full advantage of it.
They are of any color, to hiect the whimsical tastes of the wealthy ; it would be foolish to lose a sale, at prevalent Pekingese prices, because a purchaser liked a "wrong" color, and the fancy is accordingly lenient.
He has the short muzzle, full (not to say poppy) eyes, prominent "dome," and pompon tail of all toy spaniels, but he excels all in the elaborate ruff on the chest, and long, rich feather from thighs, sides, and fore legs. He must be under 18 pounds, and the smaller he is the better.
The Pekingese are the sacred temple dogs of Peking, and were once so carefully guarded that their theft was punishable by death. The first specimens to reach England were brought over in 1860 by Admiral Lord John Hay, who found them in the garden of the Summer Palace, where they had doubtless been left when the court fled to the interior on the approach of the Allied forces. These, with a few other specimens smuggled out of China, often with great difficulty, were the ancestors of many of the "Pekes" we see today.
With his comparatively large head, crush nose, and wide-apart eyes, the Pekingese looks as quaint as a bit of ancient Chinese pottery.
Did you enjoy this article?

Let us know what you think by commenting below. Don't forget to Friend us on facebook and subscribe to our twitter feed to stay updated! Thanks for reading, recommend us to your friends!