DoggieBuddy is proud to announce the print edition of "52 Tricks to Teach Your Dog," now you can take the tricks with you for easy reference as you train your dog. The best part? The 52 Tricks is still available to access for free from your computer. So, dig in and start teaching your dog some tricks!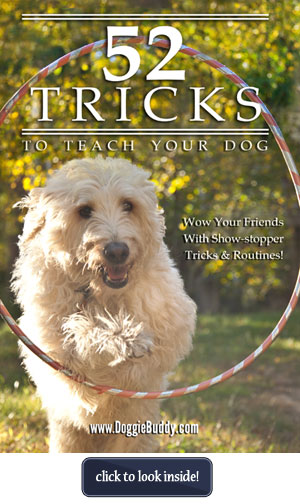 With this book, teach your dog to:
• Bring you a drink
• Learn names of everything
• Jump through hoops
• Open and close doors
• Go on walks without pulling
• Catch balls and treats
• Bring you your slippers
• Flip lightswitches on and off
• Retrieve his leash
• Yawn on command
• Put away his dog toys…
…And much more!
From The Back: "52 Tricks To Teach Your Dog was written as a personal companion to take with you as you train your dog. In this book, you'll not only find some show-stopper tricks that's sure to wow your friends at the next summer barbecue, but there are also practical obedience commands that makes life with your dog more enjoyable and fun. The purpose of this books is to help you build a better bond with your dog through teaching him impressive tricks, and making memories that will last a lifetime."
Reviews From Amazon.com
— "So, over the years I have tried a few different teaching methods but by far the most effective away as been " 52 Tricks to Teach Your Dog". In my opinion it is the best dog training book out there!"
— "Best book ever. It had step by step instructions so it's easy to use and easy to train your dog."