First off the DoggieBuddy Team wants to thank everyone for entering. We've had so much fun reading everyone's comments and entries—and it's awesome to see how many of our readers are thankful for their dogs. We wish that we could've picked more than one winner, but nevertheless, we are ready to announce this year's Thankfulness Contest Winner. Drumroll please! 
Congratulations Anna Coffin! You are this year's winner! Here's a photo of Anna with her four dogs.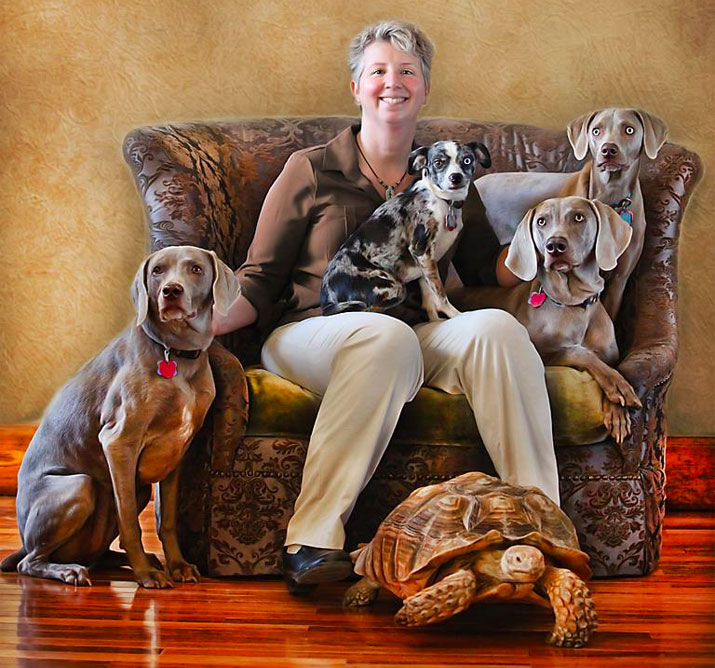 "I have 4 dogs and they have helped me through a difficult year. I have had a lot of health issues over the last 18 months and they were always right there beside me. They helped me feel better even when I couldn't give them the attention they needed. Unconditional love is what I really love about all dogs."
We had so much fun reading everyone's entries, and I'm sure you will as well. We wanted to share them all with you: check them out below!
Samantha Davis — "my dogs name is Sophia Grace she is a Boston Terrier and she has almost learned all the tricks on the site and she is very little she is very important to me she is my baby girl."
Ashley Keil — "I am thankful for my dog because I wouldn't be who I am without her. She is now a 14 year old Border Collie that I got when I was in the 3rd grade. Fancy was my first 4-H dog and taught me how to care for and love for dogs. With Fancy first I learned how to loose.. ALOT. The thing about 8 year olds and Border Collie puppies is they aren't the greatest team. I learned how to not get so frustrated over her just being a puppy and eventually she started learning to calm down. By our third year we went from all white ribbons to winning grand champion at the State level. We have traveled all over the state competing together. I can't think of a thing that I haven't learned because of Fancy. She stood with me at the Alter on my wedding day, She has been here for the birth of both my Children, When my husband got stationed overseas and she was to old to fly across the world, She stayed with my parents and we Skyped. Because of her I had become a certified professional trainer and CGC Evaluator. I opened the first positive reinforcement training business on Guam and helped give out the very first every Canine Good Citizen awards on Guam. I worked closely with Guam Animals In Need and started my own rescue Seattle Bound Boonies getting the dogs off Guam and into loving homes. She waited for me to come home and forgave me for leaving. Right now we are enjoying the golden years and someday she will teach me the hardest lesson of them all. Letting go. I don't know where I would be without her. I am so Thankful for my dog."
Bella Terra N Kronos — "Mom says she is thankful for us for so many reasons. A few are that we've helped her lose weight and improved her self image, we are her muses and inspiration, we cheer her up if she is sad, we challenge her to be a better person everyday and to be patient, we learn and grow together, and she says we bring joy and laughter to her life every day with our adorable crazy antics and by just being ourselves. Mom loves learning new tricks with us, and we love the puzzles and games in addition to the daily walks. We enjoy making YouTube videos of our tricks too (www.youtube.com/moonspirit08). These are just a few of the reasons why mom is thankful for us, and she makes sure to tell us so too :)"
Gwen Lawrence — "I am thankful for my dogs because I know when I come home at the end of the day they are always happy to see me and I have a great welcome no matter how bad my day was."
Yvonne DiVita — "My three dogs are so precious to me, I cannot imagine how other people go whole lifetimes without animals. Chester, Emily and Olive make me laugh, they make me proud, and they keep me young. The delight they bring me is priceless, as the TV commercial says. Their love and trust inspire me…and their devotion is limitless – I could never say that about any of my human friends. (well… I have discovered a large group of folks who aspire to be as 'great' as their dog thinks they are… but, even they could learn from my long-eared troop!)"
Christina Mulick — "I have a 10 year old Norwegian Buhund that's been with me since puppyhood, and a lab that I took in over the summer, he's probably 2 now. The Buhund has been my special buddy and co-pilot for nearly every trip across town or just to the store and the lab is my newest pride and joy. Hopefully he'll train up well to be a great therapy dog for my work in the schools. I could not be more thankful to have a couple of well-mannered and lovely dogs."
Digna Dreibelbis — "Great giveaway! We have two rescue dogs, one Shepard/Beagle mix named Angie, who is 6 and one Dachshund/Retriever Mix (we think), who is 3 and named Frankie. We rescued Frankie when Angie was about 3 and they are the best of friends. I am thankful that they are both healthy and dogs, who have become the best of friends and complete soul mates."
Sara Henderson — "I'm thankful for everything about them."
Caitlin Polivick — "I have a 3 year old lab who is still very much a puppy, she brings me so much joy even on the days I feel down she has such a personally on her it's in possible not to laugh at her it's like she goes out of her way to cheer me up, on a normal day she my best hiking buddy! she's everyone's friend, but can defiantly become protective when need be which gives me a piece of mind when I go out hiking alone, she makes me feel safe. I don't think I'd feel comfortable exploring as much as I do if it wasn't for her, my husband recently bought a puppy which will be coming home this week to join our family and I'm so glad it will have her to learn from!"
Dogs N Pawz — "I am thankful for my three dogs because they keep me company and brighten my each and every day. They are always there for me. I couldn't ask for better friends because they are my best friends! They bring excitement to my day and give me a reason for being on this earth. They are my soul mates and I love them dearly."
Donna Slover — "I am thankful for dogs!! Because of the love, peace, joy and comfort that they bring to my life! I am involved in rescue and they never fail to amaze me no matter how much they've been neglected! They always offer their love unconditionally! That is why I do everything I can possible to rescue them!"
Deb Beazley — "I am very thankful for my Brewster. If only more human could look at the world the way he does. If only more people could treat others the way he does. His unconditional attention is inspiring!
Carline Jenkins — "I honestly do not own a puppy yet but am saving to purchase an allergy friendly one (either a poodle or miniature schnauzer) for my family.  I've never owned a dog but have done extensive research in regards to what to expect as well as the correct methods to use when training. I can only imagine the joy a dog owner feels with the unconditional love and companionship a pet can provide which is what I'm looking forward to."
Jane Westerlund — "I very thankful for little lady she been there all the time for me she make me very happy"
Cheryl Robinson Kennedy — "I'm thankful for my German Shepard, Athena. She is 9 months old now and so full of energy. She is always there for me, happy to see me and brightens my day even if it's been a stressful one. She provides companionship, loyalty, protection and is my jogging buddy!! She has been very easy to train and is great with children."
Roxy the Traveling Dog — "I am very thankful for both my dogs. There is not a day goes by that they don't make me smile and laugh. They look after me when I am sick, snuggle on my lap every morning, and always give me that look that tells me they love me. They are awesome!!"
Rosemary de Beer — "She's my best friend."
Taylor Ralston — "I am thankful for my lab Oreo. He keeps me happy and energized and overall, just feeling my best. And he provides me with unconditional love. Whether we're going for a walk, giving him treats, or putting him into his crate, I know he loves me. He is the best thing that has happened to me in a long time. Is it too lame to say that he saved me? My depression and anxiety have almost disappeared thanks to the perfection combination of medication, therapy, and Oreo!"
Mary McCourt — "Because she filled the very empty place in my overflowing heart to overflowing <3"
Loren Sztajer — "Because before I got my two dogs, a few months apart, I was stressed and having heart problems. Now I'm healthy, happy and in love with my furry companions!"
Kelly Ison — "Thankful for the calmness Abbey brings into my life!"
Myriam — "I am thankful for my pit bull Lucca. Together we came a long way. She makes me feel happy about myself, not only for rescuing her, she indeed deserved so much better than being a breeding machine….but for achieving what no yoga or meditation did for years, she made me being aware of my energy ALL THE TIME.  Suddenly I understand the here and now, because that is where dogs live, it is overwhelming.  Stay calm, breathe, move on, I am learning so much.  THANK YOU LUCCA, we are getting there to that balanced and harmonious life we are aiming for."
Kate Obrien — "I'm thankful for the laughter. At least once a day one of them does something that makes me laugh out loud."
Kimberly Morris Gauthier — "I'm thankful for Rodrigo and Sydney, because they have been with me through thick and thin. They don't judge, they don't lecture, they don't hold grudges, and they're always happy to see me. My favorite part of the day is toss up – either when I walk down the stairs in the morning and them waiting for me, or when I come home and see them cheering for my home coming. They're littermates and have been together their entire life and I love that they love each other so much; they're happy, healthy, and they make me laugh every day – no matter my mood. I love them!"
Barbara Strunin — "I am thankful for ChazzTheDog's bright little personality. He perks me up"
Peggy Pace — "I am thankful for Sparky because I live alone and he is a lot of company, better than most! I talk to him all the time and he listens. We enjoy riding our golf cart. He even stays on it while I work in the yard, he thinks he is helping me. lol He is my shadow. Wherever I am, he is close by. I adopted him when he was 7 weeks old and he is 8y/o now. He is a blessing!! Best sleeping buddy ever."
…We're thankful for all of you, our readers, and for all of these awesome entries! We wish that we could've picked more than one winner. Check back, because we have more contest ideas that we'll be posting about in the next couple weeks!